Home
> Artificial Ice Events/ Fall Fest Events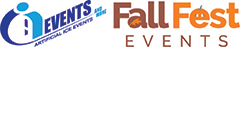 Artificial Ice Events/ Fall Fest Events
147 Summit Street, Unit #3A
Peabody, MA 01960
Phone:
800-275-0185
Website:
www.artificialiceevents.com
E-Mail:

Forward to a Friend
Company Description:
Planning a winter or fall themed event? Need attractions to fit your theme? Artificial Ice Events and Fall Fest Events has you covered. From artificial ice rinks to haunted trailers, we've got all your seasonal event attraction rentals!
Our attractions include:
Synthetic ice rinks
Giant snow globes
World's Tallest Snowman
World's Largest Rocking Horse
Mobile Snow Tube Slides
Winter mazes
Street curling
Buried Alive Haunted Walk Through Attraction
Mobile Escape Room
Zombie Paint Ball
Inflatable Corn maze
Zombie Maze
All of our attractions are available for short one day rentals to as long as multi week season long rentals. We service nationwide and have worked in all 48 Continental US states, Mexico, Canada and Honduras.
All pricing is custom and proposals are put together to best suit your specific needs. Call or email us today and one of our event specialists will be able to assist and help you to create a one-of-a-kind Fall or Winter event!
Products/Services:

General Park Products/Services
Rental Equipment/Attractions
Ice Rinks

Search www.artificialiceevents.com
Are you looking for more customized information on a product or service?