Home
> Greenfields Outdoor Fitness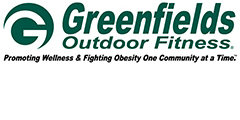 Greenfields Outdoor Fitness
2617 W. Woodland Dr.
Anaheim, CA 92801
Phone:
888-315-9037 ext 102
Website:
GreenfieldsFitness.com
E-Mail:

Forward to a Friend
Company Description:
Create an inclusive, inviting outdoor exercise center with Greenfields Outdoor Fitness! Greenfields' units are enjoyed at parks, schools, senior centers, trails and military bases nationwide. One of the most exciting concepts introduced to the public in recent years, outdoor fitness equipment has evolved into an amenity that can be used by nearly anyone, regardless of age, ability or fitness level.
Greenfields' Professional Series represents the most advanced development in outdoor fitness equipment, with 18 adjustable units incorporating sixteen levels of resistance. This unique line boasts the safest design on the market, as all pistons are bidirectional, completely eliminating the danger of recoil. The equipment uses rugged yet comfortable PolySafe seats, and SafeStop stoppers provide another layer of safety. The line includes strength training apparatuses for lower body, upper body, and core muscles; a stepper unit provides an excellent cardio workout.
The Signature Accessible units (U.S. Patent 9,079,069) have broadened the versatility of the Greenfields' line to individuals in wheelchairs, who can use these units without having to transfer. The Signature Accessible line includes a chest press, vertical press, butterfly press, and more, and nearly all units are available as 2-person models – allowing those with mobility impairments to exercise on the same units as their able-bodied peers. Moreover, the wheelchair-accessible side can, in most cases, be used by the able-bodied in a standing position. The Signature Accessible line is used and endorsed by U.S. Paralympian Jen French. Greenfields recently added three new Signature Accessible units that offer the same adjustable technology of the Professional Series.
Greenfields' Core Line is enjoyed in a vast number of parks throughout North America and the Caribbean. The Core Line harnesses users' body weight to provide resistance, thereby conforming to the fitness level of the individual. Rugged in their design and construction, the Core Line units perform well in both harsh climates and inner-city neighborhoods.

Push the limits with Greenfields' Functional Fitness units! Greenfields' new exercise stations challenge advanced users and create the ultimate environment for intense outdoor training. Cannonball and lat pull-up stations take upper-body workouts to the next level. Ball targets and attachment points for battle ropes and suspension trainers invite CrossFit-style workouts. Bulgarian split squat stations and sit-up benches provide lower body and core training. As with Greenfields' other lines, the units incorporate a strong social component to promote community-building as well as fitness.
Product Information: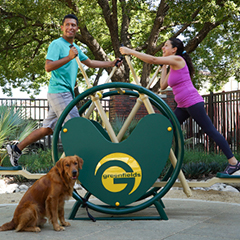 2-Person Cross Country Ski - The Greenfields 2-Person Cross Country Ski is a great social activity that strengthens leg muscles, improve cardiovascular endurance, and helps recover some lost agility. As part of the Core Line, this unit is suitable for any greenspace.
More Info
Products/Services:

Handicap Accessibility
Trail/Hiking Amenities
Landscape Architects
Athletic/Exercise Equipment & Supplies
Sports Training

Search GreenfieldsFitness.com
Are you looking for more customized information on a product or service?