Home
> Safe Slide Restoration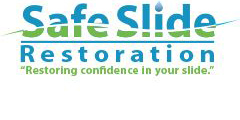 Safe Slide Restoration
PO Box 186
Fredericktown, MO 63645
Phone:
314-448-7233
Website:
www.safeslides.com
E-Mail:

Forward to a Friend
Company Description:
At Safe Slide Restoration, we have two major priorities: the safety of your guests, and the protection of your investments. Also, our philosophy is Strong Foundations First. We don't believe in shoddy work or temporary fixes. Our technicians inspect the equipment with an extensive checklist and our years of experience as a premiere water slide repair company ensure that any issues will be addressed up front. This minimizes the chances for any costly surprises down the road, usually saving tens of thousands of dollars in ongoing water park maintenance costs. Before coating a slide, we seek to address problems like blisters, cracks, delamination, coring, voids, and fractured fiberglass. We don't like partial solutions; we know our customers don't either. Every year, Safe Slide repairs water slides with failed, unproven coatings. We refuse to experiment on your slide, and we are committed to utilizing the industry's best resins and coatings in our work for you. To add to this point, our warranties are the best in the business, included in every proposal based on the work scope for your individual project. Our ongoing interest in and dedication to employing top-level coatings results in safe, gorgeous slides… and happy customers!
We offer competitive pricing and seek to minimize the downtime of your slide or operation. Safe Slide values customer safety as highly as it does customer satisfaction. We are committed to a drug-free work environment, and insist on safety training for our technicians. Above all, your peace of mind and bodily safety is our goal and the Safe Slide team is committed to quality work to make those goals reality.
Products/Services:

Planning & Design - General
Safety
Safety/Inspection

Search www.safeslides.com
Are you looking for more customized information on a product or service?