Home
> SPECTRUM POOL PRODUCTS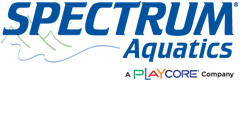 SPECTRUM POOL PRODUCTS
7100 SPECTRUM LANE
MISSOULA, MT 59808
Phone:
406-543-5309
Fax:
406-728-7143
Website:
www.spectrumproducts.com
E-Mail:

Forward to a Friend
Company Description:
Spectrum Aquatics has been meeting and beating aquatics industry standards for more than 45 years. We manufacture a broad array of quality aquatic products used in the construction and operation of commercial swimming pools and spas. We believe in building long-term relationships and strive to exceed the expectations of those who specify and use our products. We manufacture the finest products in the industry – possessing outstanding quality and workmanship – and our technical information support is unequaled. Our flagship products include starting platforms, the backstroke start device, pool lifts and accessibility equipment, ladders, standard and custom rails, steps, diving platforms, lifeguard chairs, pool covers, and a broad array of aquatic accessories and parts.
PlayCore helps build stronger communities around the world by advancing play through research, education, and partnerships. Our company infuses this learning into its complete family of brands. We combine best-in-class planning and education programs with the most comprehensive array of recreation products available to create play solutions that match the unique needs of each community we serve. Contact www.playcore.com for more information.
Mission Statement
From community pools to competitive natatoriums, Spectrum Aquatics is your trusted partner, providing products with exceptional fit and function to inspire people of all abilities to enjoy aquatic sport and recreation.
Products/Services:

Swimming Pools & Supplies

Search www.spectrumproducts.com
Are you looking for more customized information on a product or service?