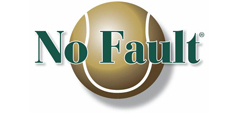 No Fault LLC
3112 Valley Creek Drive, Suite C
Baton Rouge, LA 70808
Phone:
225-215-7760
Fax:
225-291-3821
Website:
www.nofault.com

Forward to a Friend
Company Description:
The premier provider of recreational and playground surfacing, No Fault LLC is dedicated to meeting your surfacing needs. With more than 45 years of experience in providing synthetic surfacing for many of the nation's largest theme parks, community parks, school playgrounds, daycares and sporting venues, No Fault has the experience and capabilities to handle any surfacing project. Our focus is to provide the best product for your project with quality service and professional expertise for every customer.
No Fault offers poured-in-place (PIP) rubber safety surfacing for playgrounds, splash pads, pool decks, baseball fields, walking and jogging tracks, and so much more. The seamless, slip-resistant surface is ADA compliant and can be installed with shock absorption to accommodate up to a 12 foot fall height. Using the highest quality EPDM and TPV granules, No Fault creates a variety of color combinations and patterns to fit your project theme or vision. Please visit our website (www.nofault.com) for a sampling of our color combinations and creative installations.
Our skilled and professional installers are trained to pay attention to the smallest detail when installing your surfacing. As an International Play Equipment Manufacturers Association (IPEMA) certified surfacing provider, it's the continuous training and communication with our installers that guarantees quality installations to meet and exceed ASTM: Impact Attenuation Standards and customer expectations.
In addition to poured-in-place rubber safety surfacing, No Fault has several other products: loose-fill rubber mulch, bonded rubber mulch, safety tiles, rubber timbers and borders, rubber turf, synthetic turf, and sport floors.
No Fault's Regional Sales Managers are always available to provide you with answers to your surfacing questions, concerns, or pricing needs. Trained to work with municipalities, schools, park districts, architects, engineers, and community leaders, the sales managers are eager to provide you with courteous and quality service in the planning and development of your project.
https://www.youtube.com/user/nofaultsportgroup
Products/Services:

Surfacing & Construction
Outdoor/Sporting Construction
Surfacing & Coating
General Park Products/Services