Home
> Landscape Structures Inc.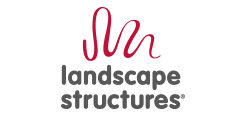 Landscape Structures Inc.
601 7th Street South
Delano, MN 55328-8605
Phone:
763-972-5200
Fax:
763-972-3185
Toll-Free:
View Toll-Free Number
Website:
www.playlsi.com
E-Mail:

Forward to a Friend
Company Description:
Since 1971, Landscape Structures Inc. has been the leading manufacturer of commercial playground equipment in the world. The employee-owned company designs community and school playgrounds that encourage kids of all ages and abilities to learn persistence, leadership, competition, bravery, support and empathy through play. Landscape Structures pushes the limits—of design, inclusion, play—to help kids realize there is no limit to what they can do today and in the future.
Bring height to the playground with the Alpha® Tower and Alpha Link® Towers. The distinctive geometric design combined with the cool aesthetic of the Hot Dip Galvanized steel frame creates a unique look. Even more, an overall height of 20 feet makes these structures a thrilling challenge for kids ages 5 to 120.
Products/Services:

Landscape Architects
Athletic/Exercise Equipment & Supplies
Climbing Walls
Playground Equipment

Are you looking for more customized information on a product or service?