Home
> Hilo Challenge Domes-Ropes Course Dome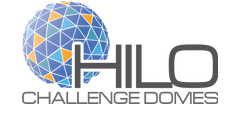 Hilo Challenge Domes-Ropes Course Dome
PO BOX 343
RICHLAND, MI 49083
Phone:
269-5980857
E-Mail:

Forward to a Friend
Company Description:
Ropes course combined with a geodesic dome. A ropes course is a challenging outdoor personal development and team building activity which usually consists of high and/or low elements. Low elements take place on the ground or above the ground. High elements are usually constructed in trees or made of utility poles and require a belay for safety. At Hilo we use a Steel Geodesic Dome in lieu of trees or utility poles. This makes for a superior structure that will withstand even the most difficult weather conditions. Every Hilo Challenge Dome is uniquely designed. We will spend the time understanding your specific location, your vision to create a one-of-a-kind Dome that will promote dynamic, creative play. Our labor, materials, and construction methods comply with IBC, AISC, AA, ACI, AWS, ASCE, ASTM standards. We are committed to adhering to the highest standards set in the industry, your project will be completed with unparalleled quality and safety. Our experienced staff will be providing onsite operational training for your team after the challenge dome has been built. The training will involve operations, staffing, challenge course safety and best practices. Additional inspection, basic maintenance and technical details will be covered as well.
Product Information:
44' in diameter-36' high-33' on the ground. Package includes: All Safety Gear, Design, Engineering, Manufacturing, Managed installation, on-site training.
More Info
Products/Services:

Playground Equipment
Sports & Recreation - General
Youth Sporting

Are you looking for more customized information on a product or service?