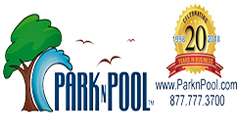 ParknPool
40 Park Place
Lexington, VA 24450
Phone:
877-777-3700
Fax:
877-777-3717
Website:
www.parknpool.com
E-Mail:

Forward to a Friend
Company Description:
ParknPool is the nation's leading online distributor of commercial outdoor furnishings serving the needs of its customers since 1998. ParknPool's goal is to provide unparalleled integrity and competence throughout the entire purchasing and installation process. If you're looking to purchase, replace or upgrade your worn pool furniture, picnic tables, benches, trash receptacles, umbrellas, bleachers, playgrounds, drinking fountains, grills or other site amenities, then visit us at www.ParknPool.com for the best product selection available today. Our mission is simple, but powerful - to create happy clients. We will identify your needs and match them with the right products. We will create realistic expectations and then we will exceed them! Our 20 years of experience matching the right products to each customer's specific needs makes us uniquely qualified to offer product design ideas as well as supply the perfect product mix.
At ParknPool it's not just about ensuring you are a satisfied client, it's about helping you become more profitable! These products will generate repeat revenue for your business (in essence, paying for themselves) year after year, and will ensure that your guests will visit you again and again! No other supplier is as dedicated to earning your trust as we are.
ParknPool is owned by U.S. Army veteran Brenda Fonner and is a certified Woman Owned Small Business and Veteran Owned Business. Our company is staffed with dedicated individuals whose mission it is to do whatever is necessary to create satisfied customers for life. Contact us today and let us know how we can help with your next project!
Product Information: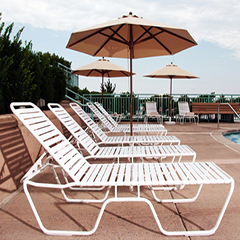 "Our best seller! ParknPool supplies more commercial pool deck furniture than any other product line. We are proven experts at the design, selection and placement of furniture for your poolside areas. Whether it's lounges, chairs, tables or umbrellas, let us put our 20 years of experience to work for you."
More Info
Products/Services:

Aquatic Equipment & Accessories
Portable Seating/Bleachers
Shade/Covers/Fabrics
Furniture
Picnic Tables
Playground Equipment

Are you looking for more customized information on a product or service?