Home
> Monarch Coin & Security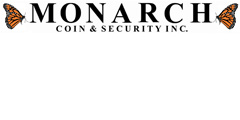 Monarch Coin & Security
1512 Russell Street, Bldg. A
Covington, KY 41011
Phone:
800-462-9460
Fax:
859-261-7403
Website:
www.monarchcoin.com
E-Mail:

Forward to a Friend
Company Description:
Monarch Coin & Security Inc. is a 115+ year old family owned/operated company specializing in coin operated products for many industries. We offer a coin/token operated meters for showers and outdoor lighting, coin/token operated bathroom lock, re-useable locking key rings, coin boxes, coin slides and other accessories for coin/token operated laundry. Our goal is to serve our customers with the best customer support possible.
Products/Services:

Lighting

Search www.monarchcoin.com
Are you looking for more customized information on a product or service?