Home
> Polly Products LLC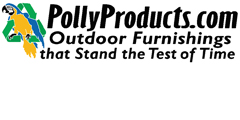 Polly Products LLC
12 North Charlotte Street
Mulliken, MI 48861
Phone:
877-609-2243
Fax:
517-649-2284
Website:
www.pollyproducts.com
E-Mail:

Forward to a Friend
Company Description:
Polly Products offers outdoor furnishings that are made from 100% recycled plastic and backed with a 20-year warranty! Anytime, Anywhere, & Any Season. Our products will be there!
The Plaza provides easy access seating for 6, made from 2" x 10" plastic lumber, with a hexagon tabletop made of 2" x 6" planks. Comes standard with a 2" umbrella hole in the center (umbrella not included). Fully illustrated assembly instructions are easy to follow, and we pre-assemble the tabletop for you.
You're sure to find the perfect table for your area from among the Plaza's 7 available UV protected colors. The frame is black only. Browse the Green-Scapes Collection for matching benches and receptacles to complete your space!
Product Information: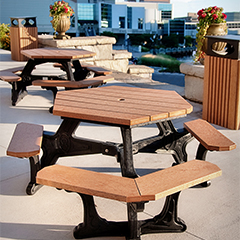 The Plaza Hex Picnic Table sets a standard no other hex table can match. The Plaza features our proprietary Green-Scapes designer frame which appears to be ornately detailed black cast iron but is made from solid, recycled plastic. And it will stay just as beautiful through the years, as it cannot rust and never needs to be painted or stained, and all components are UV protected.
More Info
Products/Services:

Recreational Equipment
Furniture
Picnic Tables
Dog Park & Waste Equipment
Playground Equipment

Search www.pollyproducts.com
Are you looking for more customized information on a product or service?