Home
> Robertson Recreational Surfaces, a Playcore Company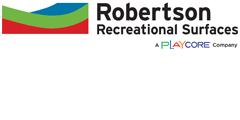 Robertson Recreational Surfaces, a Playcore Company
544 Chestnut Street
Chattanooga, TN 37402
Phone:
800-858-0519
Fax:
602-340-0402
Website:
www.totturf.com
E-Mail:

Forward to a Friend
Company Description:
Robertson Recreational Surfaces Installers of TotTurf - America's Favorite Playground Surface! Robertson now installs US wide with our sister company Sport Surface Specialties. We provide compliant, resilient, safer surfacing for playgrounds, rec fields, outdoor fitness and more!
Why Us?
Expertise and Service: With over 25 years of experience in recreational surfaces, Robertson has become the largest poured in place provider in the US and an industry leader in playful ground covering. Our years of experience and know-how enhance our level of service to bring you expert evaluations, compliant installations, preventative and reliable maintenance, in addition to top quality products delivered directly to your location from our centers.
Product: Our selection cannot be beat! Robertson Recreational Surfaces strives to go "Beyond Compliance" in product development and installations by going the extra mile to not only meet national standards but exceed those standards when possible. Whether it's synthetic grass or industry leading Tot Turf® Poured in Place Rubber, Robertson offers material options no matter your budget or space needs.
Beyond Compliance: Robertson has been an industry driver in the poured in place surfacing industry since 1991. We actively participate in IPEMA meetings to ensure that your recreational space meets safety and accessibility standards. Beyond Compliance means we will take every precaution to give you the best surfaces for your community.
Installation: Robertson utilizes a perfected technique of stepping seams connecting color joints to prevent excess splitting in your surface. Our regional service centers train our employees to ensure installations and maintenance work is done to meet your expectations and in a professional manner.
Our commitment to our customers is that our products and services will meet or exceed ASTM and IPEMA certifications for safer recreational surfaces.
Robertson also promises forthright customer support, credible installation services, and dependable maintenance solutions that will provide peace of mind before, during, and after our work is done.
Products/Services:

Surfacing & Construction
Surfacing & Coating
Ground Maintenance/Landscaping
Playground Equipment

Are you looking for more customized information on a product or service?