Home
> Adventure Golf & Sports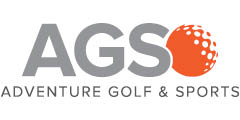 Adventure Golf & Sports
1742 Barlow
Traverse City, MI 49686
Phone:
231-922-8166
Website:
https://www.agsgolfandsports.com/cities-parks-campgrounds/
E-Mail:

Forward to a Friend
Company Description:
Adventure Golf & Sports (AGS) is an international design/build company with more than 35 years of industry experience offering the widest line of miniature golf products and services in the world.
AGS specializes in outdoor concrete miniature golf, Modular Advantage®, Bunkers & Bumps™, SplashGolf®, and portable and modular miniature golf courses for all types of venues including: indoors/outdoors, waterfront piers and rooftops.
Along with miniature golf, AGS also offers a series of game courts (pickleball, bocce ball, shuffleboard, croquet and more) and golf practice products such as the GolfCourt™ and Hitting Bays.
Adventure Golf & Sports (AGS) offers the following quality and innovative products:
Miniature Golf Design Services
Miniature Golf Course Construction
Themed or Natural Mini Golf Courses
Modular Advantage® Mini Golf - providing the look & feel of a concrete course with eco-friendly build that can allow existing trees and landscaping to remain intact
Bunkers & Bumps ™ (B&B) - an eco-friendly, customizable miniature golf putting course incorporating rolling terrain, undulations and faux sand bunkers
SplashGolf® - Water mini golf on a splash pad!
EdgeRider™ - Flexible rubber edges outline the perimeter to each AGS mini golf hole and are also fastened on the fairway or green creating different paths to the hole
Mini Links™ Mini Golf and other Portable/Modular mini golf products
Miniature Golf Course Renovations
360GOLF – High-tech, gamified mini golf
Game Court Systems - Multi Use Activity Courts with Bocce Ball, Croquet, Lawn Bowling, Shuffleboard, Bean Bag Toss, Bimini Ring game
GolfCourt® and Golf Court Hitting Bay - A Golf Practice Center that fits in the size of a Tennis Court or a single Golf Hitting Bay
Putting Greens - Indoor, Outdoor, Permanent or Portable Installations
Pickleball, Paddle Tennis and other Game Courts
With Company roots dating back to 1975, AGS brings a wealth of experience to include the owner-operator perspective having owned several family entertainment centers (FEC's) through the years. AGS understands the importance of mini golf course design and construction and how it creates a fun, interactive experience for guests to ensure a long-term return on investment for the operation.
Serving a worldwide spectrum of industries including parks & recreation agencies, city / municipalities, FEC's, theme parks, water parks, hotels / resorts, events & planning firms, condominium associations, ski resorts, bowling centers, and more, adding a bit of adventure is only a phone call away.
Product Information: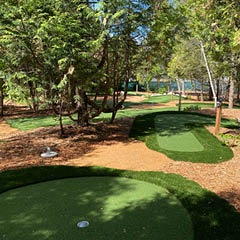 Using patented interlocking panels, the eco-friendly Modular Advantage® Mini Golf system from Adventure Golf & Sports (AGS) provides the look and feel of a concrete miniature golf course with faster installation, less maintenance and less cost. Panels are made of re-cycled materials and are permeable for water drainage, enabling preservation of your natural landscape. AGS also provides a variety of portable mini-golf courses and products ideal for seasonal, special event or year 'round use
More Info
Products/Services:

Park Administration/Event Programming - General
Amusement Venues
Golf Products & Services
Miniature Golf - Game Courts
Sports & Recreation - General

Search https://www.agsgolfandsports.com/cities-parks-campgrounds/
Are you looking for more customized information on a product or service?