Home
> PACIFIC YURTS INC.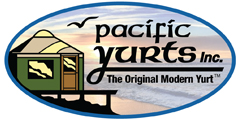 PACIFIC YURTS INC.
77456 HIGHWAY 99 S.
Cottage Grove, OR 97424
Phone:
800-944-0240
Fax:
541-942-0508
Website:
www.yurts.com
E-Mail:

Forward to a Friend
Company Description:
Pacific Yurts are freestanding, easy to install structures that provide year-round comfort and a unique, memorable experience. Pacific Yurts is the original designer and manufacturer of modern yurts, used as cozy accommodations that generate revenue in public and private parks, campgrounds and resorts. Their flexibility allows them to work as simple cabins, fully furnished luxury retreats or meeting rooms in all climate conditions. Price and design your yurt with our Yurt Builder 3D™ at www.yurts.com.
Products/Services:

Buildings/Shelters/Facilities

Are you looking for more customized information on a product or service?