Home
> Sport Surface Specialties
Sport Surface Specialties
PO Box 577
Suite 202
East Aurora, NY 14052
Phone:
716-652-2039
Fax:
716-805-1001
Website:
www.sportsurface.net
E-Mail:

Forward to a Friend
Company Description:
Sport Surface Specialties DuraTurf® Premium Safety Surfaces are designed to the specification of each customer. Working together with our clients we can assure that all critical components of each project reflect the type of use, climate, and are compliant with all regulations.

Sport Surface Specialties works with chemists consistently to design and improve the our polymers for each surface application in order to maximize its color, durability, and structure so that the play surface will last for many years through all seasons and harsh climate conditions.
We provide a variety of products including our lines of Dura Turf PIP a premium poured in place surface, Dura Turf Bonded a durable rubber mulch surface, Dura Turf Splash, a state of the art water park surface, Dura Turf Trail a PIP or Bonded product that will make any walking trail safe and durable, KidPlay Synthetic Turf system, a safe clean low maintenance natural grass look. Dura Turf products are available in a variety of colors or color combinations.
Maintenance programs for new and existing surfaces are available.
· IPEMA Certified
· ADA Compliant
· Use of recycled products
· ASTM Compliant
· National IPA Authorized Supplier
Product/Service Categories:
· Poured In Place Surfacing
· Bonded Rubber Surfacing
· Splash Pad Surfacing
· Trail Surfacing
· Turf Surfacing
Product Information: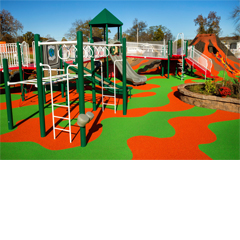 DuraTurf Poured in Place Rubber Safety Surface
More Info
Products/Services:

Surfacing & Coating

Search www.sportsurface.net
Are you looking for more customized information on a product or service?