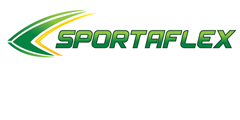 Sportaflex LLC
4221 E. Raymond
Suite 104
Phoenix, AZ 85040
Phone:
480-460-2647
Website:
www.sportaflex.com/
E-Mail:

Forward to a Friend
Company Description:
SPORTAFLEX PREMIER FENCE
Sportaflex offers portable or temporary fencing for baseball, softball, soccer, crowd control and event planning. Our Premier Home Run fence is a modular, lightweight system with optional attachments for any surface, including indoor facilities. The fences are manufactured in Phoenix, AZ of strong, but lightweight aluminum tubing for the frame sizes of either 4 ½ or 6 ft. heights. Each frame is 10 ft. wide and weighs only 12 lbs. A black mesh provides a professional look that is topped with a yellow pad for an attractive addition to your sports properties. Our new spring option enhances safety for players. Sportaflex fences are utilized by Major League Baseball, ESPN / Disney Wide World of Sports and premier parks and colleges throughout the U.S., Canada and the U.K. Optional printed mesh panels give the customer an opportunity to brand the fence with logos or advertisements.
Our Sportaflex Premier Home Run fence is a modular, portable, lightweight fencing system designed for use on athletic and recreational playing fields. An optional attachment also allows our portable safety fence panels to be used on any level surface, indoors or out, providing a valuable tool for crowd control and event management.
Fences panels are available in heights of 4 ½ ft and 6 ft. The fencing consists of individual 9'8"-long x 4'6" (or 72") high aluminum alloy frames, 1 ¼" Extruded Aluminum. Our mesh is rated at 70%, allowing 30% of wind to pass through. For high wind areas, a 50% rated mesh is available. The mesh is available in black or forest green. The
panels are inserted into ground anchors of three types:
-Base Anchor with Lag Auger Bolts that can be drilled into the ground with
portable drill
-Post Anchor with plastic sleeves. Our post anchor has a 12" steel tail and can
be quickly inserted into 12" plastic sleeves for easy setup and takedown.
-Steel Baseplates for artificial turf or solid surface.
Our fence design is ideal for all sports and recreational activities, including crowd
control. Optional attachments provided greater stability in soft turf, high wind
conditions.
-Modular design allows for elbow and tee fittings to be replaced in the event a frame is
damaged. This reduces shipping costs, as parts can be replaced instead of entire fence
sections.
-Our optional patented spring mount was designed to flex upon collision and revert back
to the upright position, providing a further degree of safety to the product.
-We utilize 1 ¼" 6061 aluminum tubing with fitted elbows and tees, thereby
eliminating sharp corners. Further safety features include our ½" EMT middle support
bracket that's designed to break away upon impact by a player.
Our rugged, corrosion resistant aluminum alloy meets all relevant ASTM standards. Our
frames are warranted against defects in workmanship for one year.
Our durable, breathable, polyester micro-fiber vinyl mesh resists weather, UV
rays, abrasion, rot and mildew – it is also easy to clean.
An optional colorful foam top rail pad can be added to enhance safety and aesthetic
quality. This top-rail is available in a variety of colors including yellow, red, green
or blue. A one-wrap Velcro is provided with each of our fences to help keep the independent fence sections in alignment.
Our Sportaflex Portable Home Run Fence adds professional, stadium-like ambiance to local venues.
Sportaflex also offers introduced its Economy fence, which continued the use of
aluminum in its frame structure. Although not a complete frame, the
Sportaflex Economy Fence provides poles that won't break, while giving parks
the assurance of enhanced safety for its players. Our tensioning system helps
eliminate the 'smiley-face sag' found on similar fences. A patented spring
allows the poles to bend then spring back to their original position. The fencing
comes in rolls of 150, 100 and 50 ft rolls. Each section is supported with highly
durable aluminum tubing, allowing for long lasting equipment, and a fence that
stands up straight.
Patented Spring Technology
Our spring technology (pat. Pending) greatly reduces the risk of injury for a player.
Advantages
1. Aluminum poles
2. Easy to store roll-up mesh
3. Less expensive
4. Spring technology – never replace another pole
Products/Services:

Fencing

Search www.sportaflex.com/
Are you looking for more customized information on a product or service?