Home
> DeepStream Designs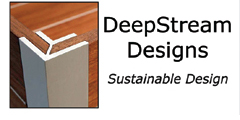 DeepStream Designs
2699 Tigertail Avenue, #54
Miami, FL 33133
Phone:
305-857-0466
Fax:
203-
E-Mail:

Forward to a Friend
Company Description:
DeepStream Designs provides innovative modular outdoor products that are engineered and constructed using the principles of sustainable design so that they will endure for generations, reducing the impact on the earth's resources and delivering the lowest cost of ownership over time. Trademark marine-anodized aluminum extrusions have no paint or powder coating to fail. Buy factory-direct with a lifetime structural warranty. Our coordinating product line includes attractive yet rugged trash and recycling bins, large planters and durable liners, benches, restaurant windbreaks and screen walls, food service carts, waiters' stations, towel return bins and cart enclosures, valet stands, weatherproof tambour point-of-sale terminal enclosures, counters, wall systems and equipment enclosures. All products can be customized.
Proven in upscale hotels and resorts, theme parks, streetscapes, shopping centers, food courts, airports, healthcare facilities, and high-traffic public spaces across the USA, our products are designed to stand up to hundreds of thousands of customer-touches each year. Standard panel finishes include exterior-grade Ipe wood and Recycled Plastic Lumber, with many other options available.
DeepStream products are handcrafted by American craftsmen using yacht-building techniques, with rugged construction that allows for damaged pieces to be replaced at the manufacturer's direct cost via our unique "Core Replacement Program." Proprietary dielectric paste prevents the stainless-steel fasteners from seizing in the aluminum legs for decades of access should a part need to be replaced. All DeepStream products use HDPE plastic or stainless steel feet to prevent contact between the aluminum legs and the ground or standing water.
DeepStream's commitment to sustainable design means that you will reduce the impact of your project on the environment and generate the planting of trees through Trees for the Future (www.trees.org). To date, DeepStream has planted over 420,000 trees in their customers' honor.
Product Information: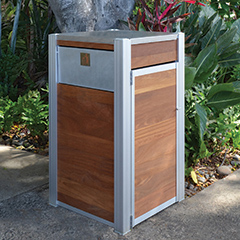 Products/Services:

Fencing
Bleachers/Seating
Ground Maintenance/Landscaping
Sanitation Supplies/Maintenance

Are you looking for more customized information on a product or service?