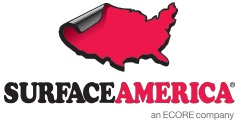 Surface America
PO BOX 157
Williamsville, NY 14231
Phone:
800-999-0555
Fax:
717-569-8276
Website:
www.surfaceamerica.com
E-Mail:

Forward to a Friend
Company Description:
Surface America provides the highest quality playground and recreational surfacing systems and is the nation's leading playground surfacing company. Since 1993, Surface America has completed tens of thousands of playground, recreational, and athletic projects throughout the U.S. and supplied and installed many millions of square feet of surfacing and flooring for facilities at every level of play, competition, and training.

We offer the most complete line of bound playground surfacing in the world including poured-in-place, turf, and tile. Our ADA compliant surfacing systems are slip-resistant, abrasion-resistant, and wear-resistant, and they can be installed with shock absorption that meets critical fall heights up to 13 feet. The surfacing comes in endless color combinations and our industry-leading crews have the ability to incorporate eye-catching logos and intense graphics for any look.

Every Surface America product and system is designed and manufactured with long-term performance in mind and is backed by the most comprehensive and longest warranties. We select the best material components available and design each surfacing system with the characteristics necessary for the application. Surface America's outstanding material quality is supported by the best customer service and superior installation craftsmanship.

The Surface America team has unparalleled proven success in project management, construction services, surfacing installation, supervision, and warranty service. Our expertise is comprehensive.

Our playground surfacing systems contribute to safe and creative play environments designed with the needs of children foremost in mind, while providing our customers with exceptional value in their surfacing investment.
Surface America, specializing in:

• Highly durable surfacing systems
• Best quality material components
• Outstanding contract administration
• Thorough project management
• Superior installation craftsmanship
• Responsive post-construction service
• Industry's longest warranty coverage
Product Information:
Surface America offers a complete line of bound playground surfacing systems including poured-in-place, turf, and tile. • PlayBound™ Poured-in-Place • Evertop™ • PlayBound™ TurfTop™ • UltraTile® Play
More Info
Products/Services:

Surfacing & Coating
Handicap Accessibility
General Park Products/Services
Athletic/Exercise Equipment & Supplies
Playground Equipment

Search www.surfaceamerica.com
Are you looking for more customized information on a product or service?