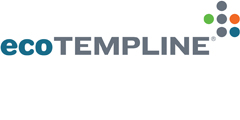 Eco Chemical
6600 Ursula Place South
Seattle, WA 98108
Phone:
206-448-7930
Fax:
206-448-8553
Website:
www.eco-templine.com

Forward to a Friend
Company Description:
Eco TempLine produces sports field marking products and related equipment, including field paint for natural grass and synthetic turf, as well as paint removers and removal equipment. Our paints are widely recognized as the quality standard for appearance and performance, in terms of play and weather durability. TempLine delivers a thorough, low-risk, systematic approach to turf marking and rapid field conversions for synthetic turf fields and a complete line of natural grass paints to satisfy a range of performance requirements and budgets.
Eco TempLineR Logo
A superior quality Eco TempLineR grass paint is available to fit any budget!
· Premium for the best coverage, brightness and durability
· Pro, can be diluted to satisfy a range of coverage & quality requirements
· Playmaker for the budget-minded, or the practice field
· Playmaker Concentrate, 10+gallons of paint in a 26-pound cardboard box!
Set yourself up for victory with Eco TempLine Grass Paints!
Products/Services:

Surfacing & Coating
Ground Maintenance/Landscaping
Maintenance Equipment/Vehicles

Search www.eco-templine.com