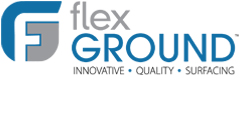 FlexGround LLC
2140 E Cedar Street
Tempe, AZ 85281
Phone:
888-571-1080
Website:
www.flexground.com
E-Mail:

Forward to a Friend
Company Description:
FlexGround is an IPEMA certified, award-winning expert in creating or updating your playground surfacing, aquatic parks, splash pads, athletic courts and recreational trails. As a leader in recreation and safety surfacing, our mission is to provide innovative and high-quality surfacing options, installed by a knowledgeable and caring staff, backed by unparalleled customer service.
In 2022, FlexGround Surfacing is expanding its serviced territories across the U.S. The service extension will include full-service surfacing installations and maintenance for all safety surfacing options. Tom Discipio, new VP of Operations located in the Buffalo, NY office said, "Helping customers generate more business by relationship building is a historically proven key to success. If you are looking for the best strategies to grow your surfacing options, we are eager to assist. Let us help you expand your surfacing product lines with ease and professionalism, one project at a time."
Products/Services:

Surfacing & Construction
Outdoor/Sporting Construction
Surfacing & Coating
Ground Maintenance/Landscaping
Playground Equipment

Search www.flexground.com
Are you looking for more customized information on a product or service?