Home
> Chapin Manufacturing, Inc.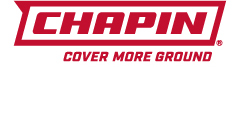 Chapin Manufacturing, Inc.
700 Ellicott Street
Batavia, NY 14020
Phone:
585-343-3140
Fax:
585-344-1775
Website:
www.chapinmfg.com

Forward to a Friend
Company Description:
Chapin International, Inc. has been manufacturing equipment for lawn care, landscape and home maintenance, and industrial applications for more than a century. Chapin is family owned and based in upstate New York, where the company was founded. Ralph B. Chapin started manufacturing kerosene cans in 1989 and expanded his business to include metal sprayers in 1903. Today the company offers a vast array of poly and metal sprayers in various configurations, turf and salt spreaders, fertilizer injectors and irrigation equipment.
Our sprayer line includes hand compression tank sprayers made of poly or metal in sizes ranging from one to three gallons, with specific models designed for spraying pesticides, herbicides, fertilizers, concrete sealers, ice melt solutions, cleaning and disinfecting products, and degreasers. We offer handheld and hose end sprayers for smaller jobs, and extensive lines of backpack sprayers, ATV/UTV mounted sprayers, and trailer sprayers to cover larger areas.
The Chapin spreader line offers durable walk behind spreaders for turf maintenance and application of salt or ice melt in the winter. Our handheld spreaders allow for application of materials in hard to reach areas Spreaders are available in a wide range of hopper capacities and material compositions to provide options that best serve the needs of the maintenance professional.
Our HydroFeed irrigation product line provides the basic tools needed to keep landscapes well fed and watered, including heavy duty hose nozzles, watering wands, sprinklers, water timers and fertilizer injectors.
To learn more about Chapin and our products visit www.chapinmfg.com.
Products/Services:

Building & Construction - General
Ground Maintenance/Landscaping
Maintenance Equipment/Vehicles
Restrooms & Equipment
Sanitation Supplies/Maintenance