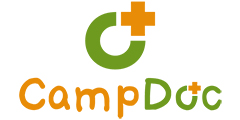 CampDoc.com
4750 Venture Dr Ste 101
Ann Arbor, MI 48108-9505
Phone:
734-636-1000
Website:
https://www.campdoc.com/
E-Mail:

Forward to a Friend
Company Description:
CampDoc.com is a way to streamline the collection of parks and recreation program paperwork from families, as well manage day to day operations. CampDoc.com is the leading electronic health record system, also offering free-online registration, travel and emergency protection, and discounted program medical supplies. Designed by doctors, nurses & directors, our secure, easy-to-use web-based solution keeps safety in the forefront of program operations, managing health forms, allergies/medications and illness/injury health logging for your parks and recreation programs throughout the year. CampDoc.com can easily integrate with recreation systems, contact us for more information.
Products/Services:

Information Technology - General
Scheduling/Registration
Professional Services - General
Web Services

Search https://www.campdoc.com/
Are you looking for more customized information on a product or service?