Home
> Aqua Creek Products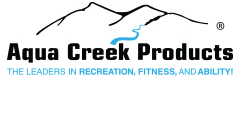 Aqua Creek Products
9889 Garrymore Lane
Missoula, MT 59808
Phone:
888-687-3552
Website:
aquacreekproducts.com/
E-Mail:

Forward to a Friend
Company Description:
Aqua Creek Products has been manufacturing quality aquatic access and therapy equipment since 2002. We are well known for our industry-preferred products, superior warranties, and outstanding customer service. Our highly experienced staff is dedicated to helping you find the right solution for your pool and spa access needs. All our lifts are hand crafted with pride right here in the USA.
Aqua Creek strives to bring affordable, reliable access to everyone. We currently offer several pool and spa lifts and many of these lift models are ADA compliant and allow for a wide variety of access solutions, ideal for both commercial and residential use.
We are first and foremost a manufacturer of pool access equipment, but also offer a comprehensive line of aquatic training and exercise equipment options. Our products can be used by a wide range of users from beginning swimmers to aquatic therapy patients. We offer versatile products designed for individuals recovering from surgery or looking for a low impact way to get fit. We have a solution for you.
We also offer pool and shower access wheelchairs, toddler training platforms, beach access chairs, and a wide variety of PVC pool products.
We are constantly evolving and changing as we improve quality, features, and performance of our products. Whether you need to bring your facility up to ADA standards or you need an easy way to enjoy your backyard pool or spa, Aqua Creek has a solution for you!
Product Information: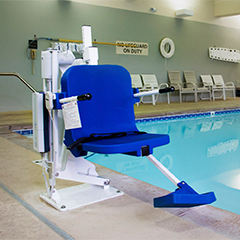 The Pro Pool Lift is the first aquatic lift to be verified by an independent third party as ADA compliant and safe for commercial use. It upholds Aqua Creek's standards for durability and reliability. Aqua Creek lifts are hand crafted in the US and constructed from all stainless steel with a protective powder coat finish.
More Info
Products/Services:

Aquatic Equipment & Accessories
Aquatic Fitness Equipment
Lifts & Pumps
Handicap Accessibility
Athletic/Exercise Equipment & Supplies

Search aquacreekproducts.com/
Are you looking for more customized information on a product or service?