Home
> American Carnival Mart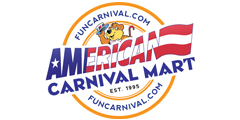 American Carnival Mart
1317 Lindbergh Plaza Center
St. Louis, MO 63132
Phone:
314-991-6818
Fax:
314-991-6884
Website:
www.funcarnival.com
E-Mail:

Forward to a Friend
Company Description:
American Carnival Mart is a carnival and party supply store located in Saint Louis, MO. In business since 1995. We offer novelties, game prizes, carnival game supplies and equipment along with party supplies and decorations for carnivals, festivals and events worldwide.
Our major programs include:
· Prizes & Supplies for Carnival, Fairs, Festivals & Events
· Themed & Seasonal Party supplies & decorations
· Empty & filled plastic Easter eggs and novelties in a range of sizes
· Empty & filled Christmas stockings in a range of sizes
· Throwing and wearing beads for Mardi Gras, St. Patrick's Day and promotions.
· Custom designed souvenir programs
· Holiday Surprise Store gift shop progam
· New Year's Eve Party Kits and Supplies.
· Shows & promotional event supplies
· Sailor Duck TM – unsinkable and untippable rubber river race duck
We import the bulk of the product we offer to support those programs including:
Carnival prizes and novelties, stuffed toys, novelty hats, mascot hats, sunglasses, light-up novelties, inflatable toys, toy balls, gifts for family members, plastic Easter Eggs and novelties, throwing and wearing beads, souvenir glassware, postcards and novelties, Christmas stockings, rubber river race ducks along with party supplies and decorations for all major holidays, themes, seasons and events.
In addition, we offer a unique selection of bulk candy mixes, carnival game prizes, tickets & wristbands, balloons, party supplies, parade & float supplies, themed party decorations & supplies, school spirit novelties, D-I-Y games & supplies, activity & game supplies.
As an ASI distributor we provide custom imprinted novelties, imprinted balloons, pins, pens, prize wheels, felt pennants, imprinted cups, custom Mardi Gras beads, custom imprinted wristbands, and thousands of other imprinted items.
In the St. Louis area we offer Carnival Game Rentals, Tent Rentals, Dunk Tank Rentals, Folding Table Rentals, Folding Chair Rentals, sno-cone machine rentals, popcorn rentals, and cotton candy machine rentals along with concession supplies. We also create custom banners, signs, stickers, cups, invitations, and napkins in house and our Certified Balloon artist creates custom balloon decorations, balloon arches, balloon columns, balloon centerpieces and New Year's eve balloon drops for any size event locally.
Products/Services:

Retail Products/Souvenirs

Search www.funcarnival.com
Are you looking for more customized information on a product or service?